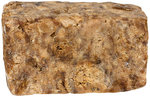 Made from coconut oil, cocoa pod ashes, plaintain skin ashes and palm oil this is the perfect black soap for those who enjoy the genuine article - authentic black soap imported from Ghana.
This product is way better than I thought it would be. I am very pleased with it and will be reodering. The packaging is nice everything was intact and thank you for the complimentary items. I appreciate all of it.

Great quality for raw black soap and a good amount for a nice price!

I love this soap, this is my second bar and I cant tell you how much I appreciate how it makes my skin feel. Thank you!

This soap is amazing.

This was my first time ever using a soap of this kind, I absolutely love it! When I received it in the mail I was excited so the very next day I used it

I love this soap and it's natural feeling. I have not used any other soap in years. It works great on my skin.

I have sensitive skin and most soap don't work for me. I love this soap, Its amazing. I love this soap so much that during this pandemic I had to order on-line and have it delivered to me. You won't be disappointed with this soap.

I love this soap.

I love this soap!