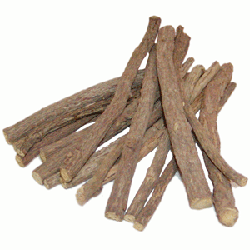 The Origin of the Chewing Stick.

Once used by the Babylonians (3500 B.C.), Egyptians, Greeks, and Romans, the chewing stick of old was simply a small wood "toothbrush" used in our predecessors' daily oral hygiene. Although Europeans once took advantage of this simple method, the chewing stick fell out of favor with them over three hundred years ago. Although the most common source of the chewing stick is the saltbush (also called toothbrush tree) in the Middle East, in West Africa, orange and lime trees are used, while the neem tree (neems) is the main source for chewing sticks in the Indian subcontinent. Astonishingly, nearly three hundred different species of trees and shrubs in East Africa are used in making chewing sticks! Chew sticks are usually nothing fancy--they are simply made out of frayed twigs. However, it depends on what kinds of twigs the chew sticks are made out of. According to some, twigs from the Salvadore Persica tree called the Miswak (also called siwak or miswaak) make the best kinds of chew sticks. Twigs that come from the licorice bush can also serve as the basis for making chew sticks.
There are inherent medical benefits in chewing sticks. The research points to the possibility that chewing sticks are full of medically helpful properties. Some of the medically helpful properties are things like abrasives, detergents, antiseptics, astringent, fluoride and enzyme inhibitors. Other studies have indicated that chewing on these sticks can be as effective as using toothbrushes and toothpaste to clean both gums, teeth, freshen breath (before and after meal time); and even are good for head and stomach problems. In fact, the usage of Miswak has antiseptic properties and it is comparable to other oral disinfectants and anti-plaque agents used today. Another more modern use for chew sticks is smoking cessation. It is reported that using a chew stick may reduce the need for a cigarette and may also slow the potential for weight gain while one is trying to stop smoking.
Still popular in parts of Africa, Asia, and the Middle East, many have come to realize the amazing benefits of nature's nifty little toothbrush for many conclude chewing sticks work as well as the traditional toothbrush of today. So much so, that these little sticks are finally available with us online, for those searching for a more natural way of keeping their teeth and gums healthy. So whether you opt for the more traditional method of brushing your teeth, or the more natural yet antiquated method, why not give this cool little toothbrush a try!
Our chew sticks come in a selection of flavors for your enjoyment - Give them a try today!