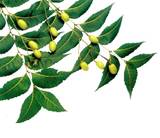 Neem is a multipurpose herb because of its exceptional medicinal properties of curing illness, it is often referred to as "plant with a promise".
It is extremely beneficial for eczema prone skin and will benefit people who suffer from psoriasis and acne.
Its astringent properties help to cure minor cuts and wounds. Neem oil helps to relieve dry and itchy skin.
This was my first time using this oil ever, besides the nutty smell of it, I love it it is working wonders on my feet that I take care of myself. Along with my other routine care .....my skin is glowing!

This is a great product