Tropic Isle Living Jamaican Black Castor Oil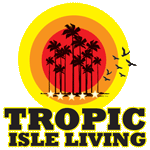 For over 17 years Tropic Isle Living has been specializing in making natural hair, skin and body care products from oils, herbs and berries from Jamaica, the rest of the Caribbean and Africa. These products are not mass produced, they are mostly made the old fashioned traditional hand processed way. This is so because its one way to preserve the natural magnetism of the products while paying homage to the elders and ancestors that passed on the knowledge.
The most popular product is the Jamaican Black Castor Oil. It is a powerful and proven hair conditioner, but it is also traditionally used for: aches and pains, laxative, skin issues, breast massage, detoxifier and much more. The effectiveness and the multiple benefits of this wonderful healing oil has prompted Tropic Isle Living to use it as a base in other hair and skin products including: Coconut Black Castor Oil, Black Castor Oil Hair Food, Black Castor Oil Protein Conditioner, Black Castor Oil Shampoo, Strong Roots Red Pimento Hair Growth Oil and our Khus Khus Body Butter. We also recently added a remarkable bath product, Jamaican Bush Bath.
We invite you to use Tropic Isle Living's Black Castor Oil Line of Hair products for a healthy scalp, and healthier, stronger, longer and thicker hair.
Remember, Live Natural Live Happy!